We all have a hidden adventurer inside of us, and it just takes a few good stories from a few wise souls to light that fire. But maybe the odds of owning an adventure bike are against you. It could be a tight budget, or the fact that you've just turned sixteen and can't ride anything bigger than 125cc.
Manufacturers have recently seen the need for real-world adventure motorcycles that are easy to ride and don't break the bank. But even the accessible 250cc and 300cc dual-sports that are so popular right now, might be out of reach for some. That's where SYM comes in—with the SYM NHT 125.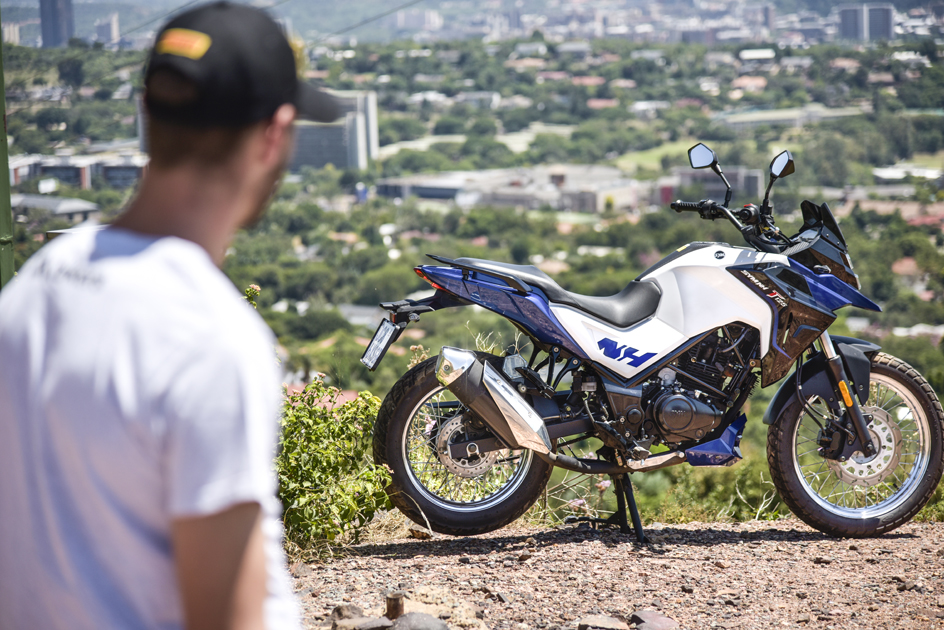 The theory of it all sounds pretty good; a 125 with all the style and functionality of its bigger counterparts. But has SYM found the right formula for the perfect small adventure bike? I spent a month, and a few hundred kilometres, on the SYM NHT 125 to reach a verdict.
As far as looks go, the NHT has somehow ticked both the rugged and classy boxes. It very much looks like an adventure bike—with spoked wheels, a beaky front fairing, wide handlebars, a centre stand and a mini bash plate. I think the NHT looks impressive, and I can kind of see a little Suzuki V-Strom resemblance up front, with some Honda NC likeness at the rear.
I had a few adventure bikers nudging my shoulder at the traffic lights, asking me all sorts of questions, and sending plenty of good vibes back. One guy followed me aboard his Africa Twin, just to stop next to me and give me a "lekker fiets, ou," followed by "where can I buy one?"
I truly like the beaky front end, along with the NHT's stunning LED headlight arrangement, which doesn't just look the part, but works fantastically as well. There's no TFT display, nor is there an analogue one either—instead, you get a very modish LCD display. You can find all the information you need on the dash, and I was certainly surprised to see a gear indicatory on a 125, too. If you're a millennial that needs to charge your phone, or a crusty adventurer that needs to charge your GPS, the NHT has a USB charge port right at the top of the tank.
The cockpit, in general, is a very comfy place to be. The upright riding position offers you clear forward visibility, and the one-piece seat is comfy and roomy for both yourself and your pillion. The only downside is the high seat height, which isn't that accommodating for more vertically-challenged riders.
The heart of the NHT is a very simple 124.1cc single-cylinder fuel-injected motor. It does exactly what you'd expect it to do: it chugs along, and while it isn't the fastest bike on the road, it's by no means the slowest 125 either.
The motor pulls well, especially in third and fourth, which is where you need it the most. The gearing lets you cruise comfortably at 85 km/h at around 8,000 rpm leaving you with another 2,000 rpm before you max out at 116 km/h. Vibration is surprisingly low for a single, and SYM has even fitted a peppy sounding exhaust, too.
The NHT's strong point is its great fuel efficiency, and the range it gets from its massive 11L tank. I managed to get an average of 28.5 km/L on a bad day—so if you do the math, you get a range of 310 km or more.
On the road, the NHT 125 soaks up bumps with its very compliant suspension. But it also offers a very sporty ride, meaning you can enjoy the curves without any reservations. I've ridden a few 125cc bikes and many of them just struggle when it comes to balance and weight distribution—making the bike either super flighty, or seriously heavy to steer. But the NHT feels perfectly balanced to me.
When it comes to slowing down, I quickly found out that the NHT is equipped with CBS (combined braking system) brakes. I stepped on the back brake and noticed the front forks diving, and then the bike coming to a halt way quicker than anticipated. This is really nice while riding on the road, because you can pretty much stop using your front brake lever altogether.
But while I loved the CBS brakes on-road, off-road was a different story. If you are a rider that stops with his back brake and likes to slide about, the CBS will be your downfall. It's not a train smash, because newer riders on smoother gravel roads might never notice this. As for me, I wish they had connected the CBS to the front lever rather than the foot brake—because then this issue could have been eliminated completely.
Other than that gripe, adventure riding on the NHT is fantastic. It holds its line on smooth gravel roads, the meerkat riding position feels natural, and the bike feels very nimble, too. When it comes to more rocky or uneven off-road riding the suspension is a bit on the firm side, which results in a harsh ride.
All in all, I think SYM has brought a fantastic motorcycle to the South African market.
The SYM NHT 125 is a great bike for those who want to get an early start in adventure motorcycling, or for those looking for an affordable daily runner that can take alternative routes.
The NHT currently comes in two colour versions: blue and white, and red and white. And with pricing hitting the sweet spot at only R29 995, it's a no-brainer.
Article and Photo's by: Bjorn Moreira / www.zabikers.co.za